Hotel Budir Wedding Ceremony Guide | Little Black Church | Iceland Wedding Venues
Hotel Budir Wedding Ceremony + The Little Black Church of Iceland
Hotel Budir is one of the best places that you can have a wedding in Iceland. It's surrounded by incredible scenery full of mountains, moss covered volcanic rock, cliffs, and ocean. The location is peaceful and full of pristine wilderness. Better yet, it's only a couple hours drive outside of Reykjavik.
Black Church
When it comes to getting married at the Hotel Budir, you have a few great options. First, there is the adorable and famous little Black Church. And believe it or not, it is located right next to the Hotel Budir. Actually, within walking distance! This is a very easy location for your wedding ceremony in Iceland. Especially if you don't want to do any driving.
When it comes to the little black church, as a wedding photographer, I see a couple great options. First of all, if permitted, you could hold a small ceremony inside of the Little Black Church. The inside is very old fashioned with wooden pews. OR, if you want to have both the epic scenery of Iceland AND the adorable Little Black Church in your ceremony pictures, you can get married outside in FRONT of the Little Black Church. That way, you get the best of both worlds without having to sacrifice your Iceland views.
Natural Ceremony Backdrops
The scenery surrounding the Hotel Budir is abundant. You can hold your ceremony outside facing literally any direction, and it would be beautiful to be honest. It is easy enough to hold your wedding ceremony on the land surrounding the Hotel Budir . Then, just let the landscape of Iceland be your focal point.
However, if you are feeling a bit more adventurous with your guests, there are also a couple of nearby waterfalls that can be easily accessed for a wedding ceremony. Both are just up the mountain, headed north near Grundarfjörður. The one is just across from the very famous Kirkjufell mountain peak. And the other is a very tall, skinny waterfall. It takes a little more walking to get to that tall, skinny one, but it's still very epic and very "Iceland".
Weather
Whatever plans you choose for an outdoor wedding ceremony in Iceland, you should plan to be flexible. For example, I recommend allowing a little buffer of time in your schedule. This way, if you need to wait for any unexpected weather to blow past, you won't blow your timeline. One wedding I photographed at Hotel Budir had strong winds and even snow showers the morning of their ceremony. We waited about an hour, and the winds calmed down enough to safely stand by the waterfall they chose to get married at. As a wedding photogrpaher, I will always be patient in order to get the best shot. You don't go all the way to Iceland just to go with plan B. So, being prepared and allowing flexibility is key for your wedding day.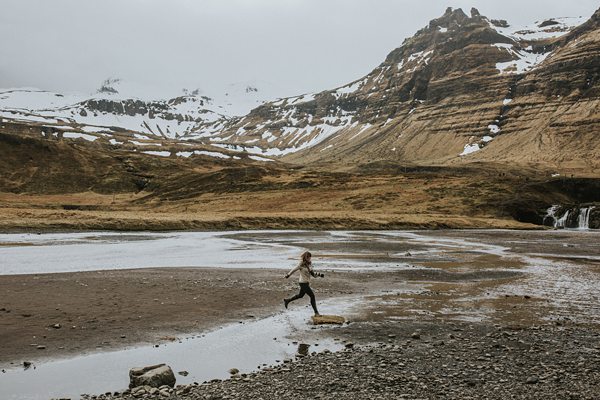 Contact Me – Experienced Iceland Destination Wedding Photographer
If you are planning your wedding in Iceland, and need any information about Hotel Budir, what to expect, vendors, etc, please don't hesitate to ask. And if you are interested in the possibility of having me photograph your epic Icelandic wedding memories, please contact me  to ensure I have your date available. It is always a joy to photograph a wedding in Iceland and its surrounding nordic countries. To see more of my work, please check out my blog, portfolio, and reviews.
Hartman Outdoor Photography
Experienced Fine Art Iceland Destination Wedding Photographer
Please check out the following links for more information about weddings at Hotel Budir