Linville Golf Club Wedding Guide | Luxury Destination Wedding Venues
Linville Golf Club Wedding
The Linville Golf club is not only a stunning place to  hit the tees- its a well known venue to get married at too! And take it from this wedding photographer- it is one that you want to check out!
Why You Should Get Married at The Linville Golf Club
Nestled between the tall mountains of the North Carolina High Country, The Linville Golf Club is situated a short ways outside of Boone and Blowing Rock. 
Here, you can experience each season to its fullest. This means snow filled winters. Autumns surrounded by fall colors. Springs full of colorful flowers, and sweet, mild summer days. No matter what time of year you would like to plan your wedding, at the Linville Golf Club, it is sure to be gorgeous!
The Linville Golf Club contains two major buildings where weddings are commonly held: The Eseeola Lodge and Camp Yonanoka, otherwise known as simply, "The Camp". You may also hold a reception with incredible views in the Grand Room of the Eseeola Lodge. 
The scenery of the Linville Gold Club is perfect for wedding photography. First, there are the open lands of the beautiful rolling golf course. Then, there is the lake, and the adorable boat house and dock that goes out into the water. And to top it all off, there are the adorable rustic buildings. But most of all, the views of Grandfather Mountain reflecting in the pond are what take the cake. Stepping away from the reception to enjoy a few minutes alone watching the sunset are an incredible memory to remember for your wedding day. I promise you won't regret it!
Contact us – Linville, NC  + Destination Wedding Photographers
If you are interested in having us photograph your wedding in Linville, NC – whether at the Linville Golf Club, or Eseeola Lodge, a different venue, or a mountaintop – please contact us so we can ensure your date is available. We are so inspired by the scenery and weather of western North Carolina and the many other destinations we have been blessed enough to photograph at.
Thank you!
Shelley, Zach, and Jenny
Boone, NC + Destination Wedding Photographers
To see more information about getting married at Camp Yonahnoka/ The Eseeola Lodge on Linville Golf Club please check out these other articles: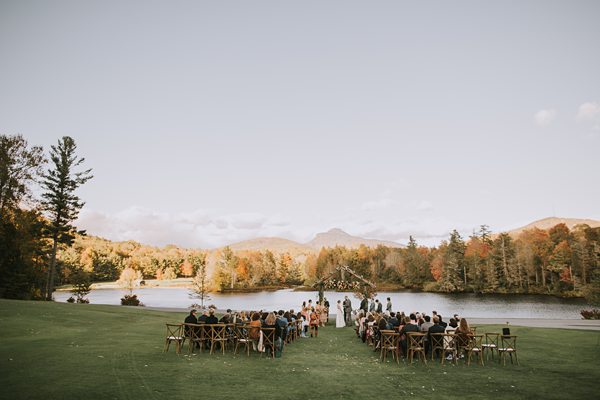 Boone, NC Wedding Venue
Eseeola Lodge Wedding
Linville Golf Club Wedding
Boone Wedding Photographers