Laura | Bridals in Rocky Mountain National Park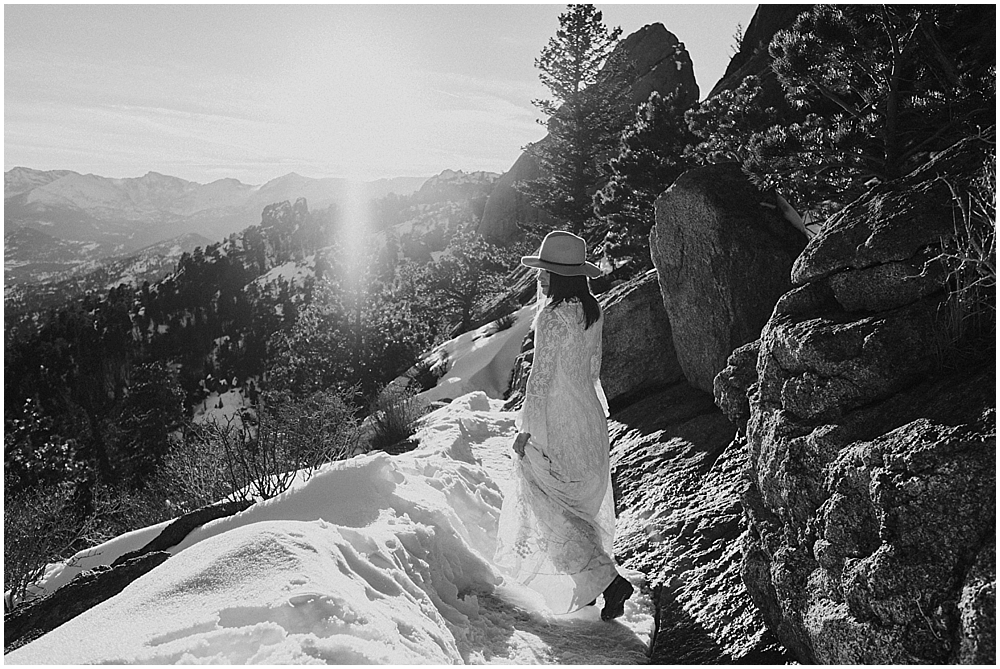 Colorado stole our hearts. One hundred percent. And while all of our hikes were covered in snow, and all the alpine lakes we visited were thick with ice, the magic of winter was in full throttle. The tips of the Rocky Mountains had received over five feet of snow, but the sun warmed things to the point where it hardly felt like it was freezing. Plus the quiet up there was something so peaceful. Rocky Mountain National Park really is a very special place.
Laura and I had planned a hike to a spot in the Rocky Mountain National Park called Gem Lake. Its a little off the main entrance in the town of Estes Park , Colorado. The trail is lined with tall red cliffs and boulders. Of course, everything is coated in snow and ice, but that only added to the beauty and texture of the landscape.
Laura is a true free spirit. Always laughing. Adventuring. Traveling. As an opthamologist, she divides her time between playing in colorado and flying into the remote villages of Alaska providing eye care to those who may not otherwise receive such great care. I feel so lucky to know her. She really is an inspiration of what it means to be strong and courageous and live life to the fullest.
Laura's wedding dress is made by her favorite designer, Claire Pettibone, as is the long sleeved lace petticoat she wore over it. The pink hat kept Laura a little warmer in the cold and brought the whole look together. While it was chilly outside, we were able to do this whole shoot in about twenty minutes in the snow. This was one of my most efficient sessions yet! But it was perfect timing as we made it to the trailhead just in time for before dark.
Thank you so much for your great company and for being my hiking buddy for the week Laura! I had such a great time!
Shelley Hartman, Colorado + Destination Wedding Photographer