Colorado | Hiking Bear and Dream Lake in RMNP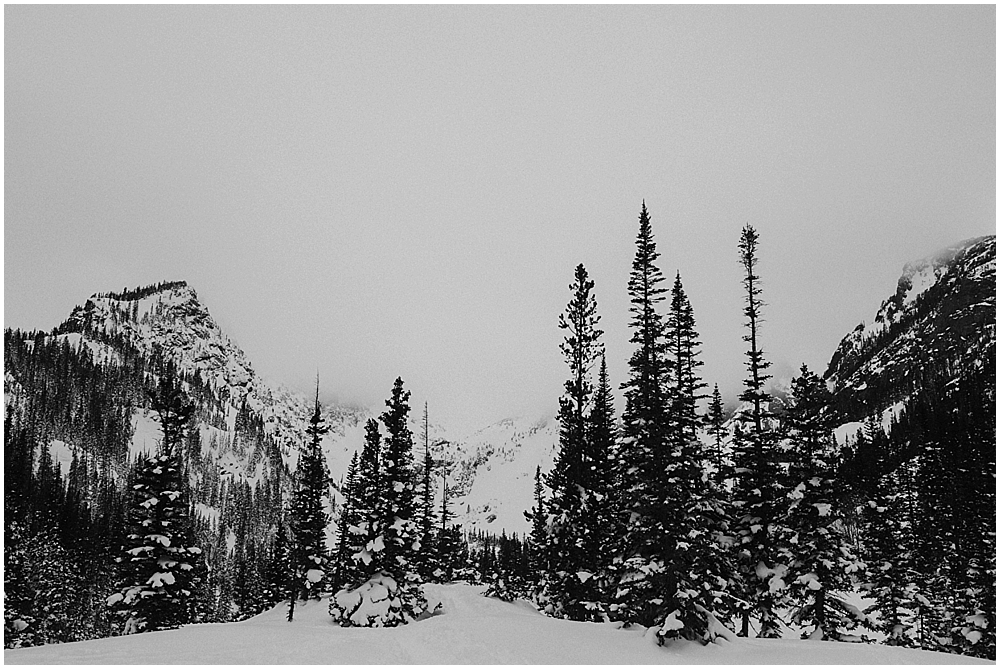 During my time in Estes Park, our friends Laura and Oakley told me how lucky I got with the snow and the weather. The Colorado Rockies had more snow than usual for this time of year, and the typical winds that blew over the mountains had come to a halt, leaving all the trees coated in white powder. It was a beautiful sight to see!
Once again,  I was out to scout a spot for a future engagement session I had scheduled within Rocky Mountain National Park. My couple was flying into Colorado to meet us for the shoot, and wanted a beautiful snowy, wintery scene in the mountains. I had researched a spot called Bear Lake, which led to another alpine lake just up the mountain. Both areas looked majestic in their photos online, but I wanted to make sure that the hikes were doable for my couple in the deep snow, and also to make sure that our truck could make it up to the top of the mountain without 4WD. Thankfully the staff at RMNP plow regularly, and I made it up to the Bear Lake parking area without any problems. Getting to Dream Lake however, was a whole other story!
According to the Rocky Mountain National Park trail conditions site, the Bear Lake and Dream Lake areas had already received over five feet of snow this winter. So many of the trail signs were completely buried in snow. Bear Lake is right off the parking lot, so that's easy to find. Then there is a well trodden path through the snow to a spot called Nymph lake between Bear and Dream Lake. But from that point on- I had no way of knowing which way to go through the snow to Dream Lake. Looking at the trail map I carried, it looked like the path went one way, but when I asked other people hiking, they pointed me in another direction. I ended up following other hiker's directions and hiked all the way back to Bear Lake through a backwoods route- never passing by Dream Lake like I had planned.
Being very determined to find Dream Lake, despite all the time we spent getting lost, I hiked back out to Nymph Lake for a try at a different route. This time, I saw a guy coming out of the woods on the other side who told me he just came from Dream Lake! I hurried down the path following his tracks and finally came to the place I had been searching for. It was beautiful! It was only a half mile from Nymph Lake, but there were way fewer people here. I nearly had it all to myself. It started getting dark, so I had to turn around as soon as we got there, but I would not wait to take our couple here next weekend. Now that I knew the way, I felt confident taking them here and I knew they would go bonkers over this spot.
Let me know if you've hiked this area as well! I'd love to hear your experience!
Shelley Hartman, Colorado + Destination Outdoor Wedding Photographer