My Visit to Ilulissat Greenland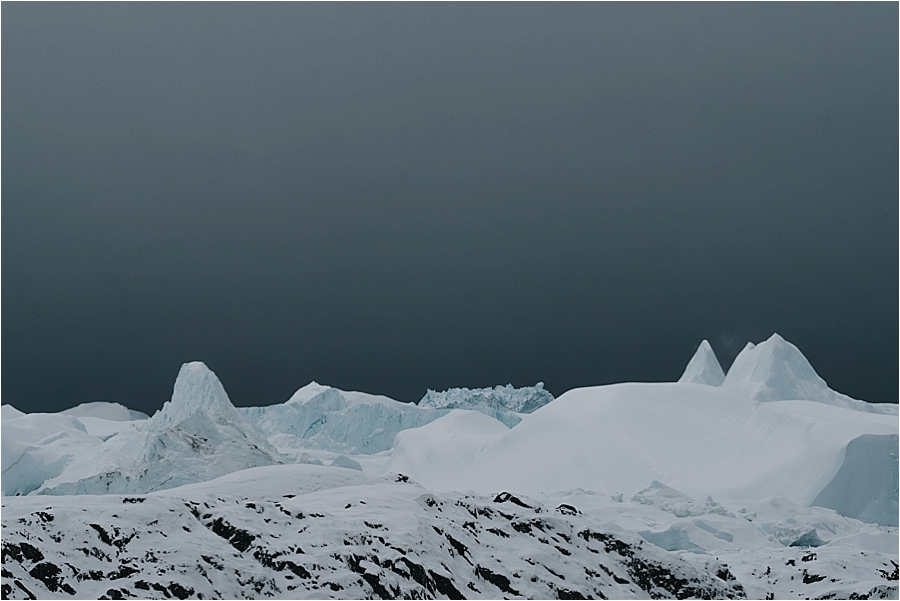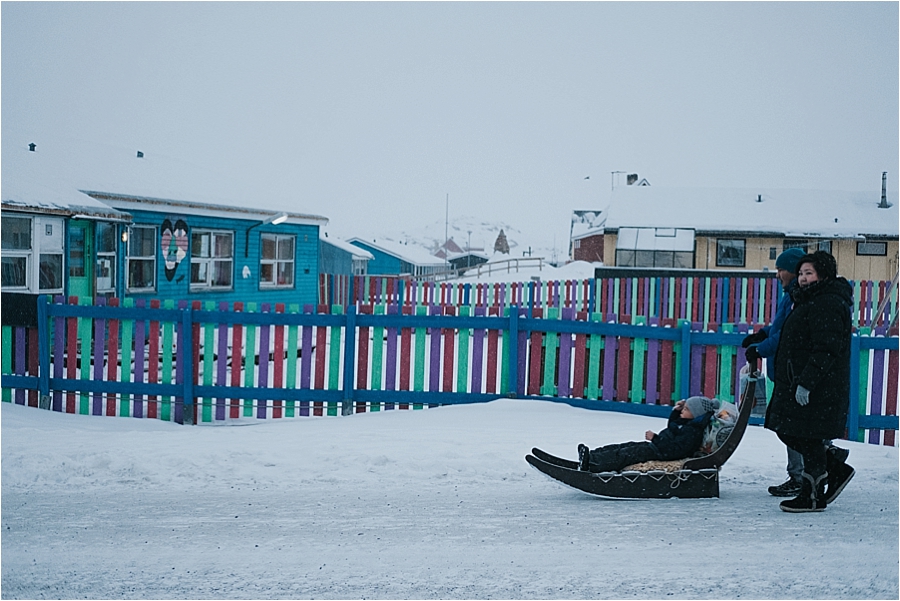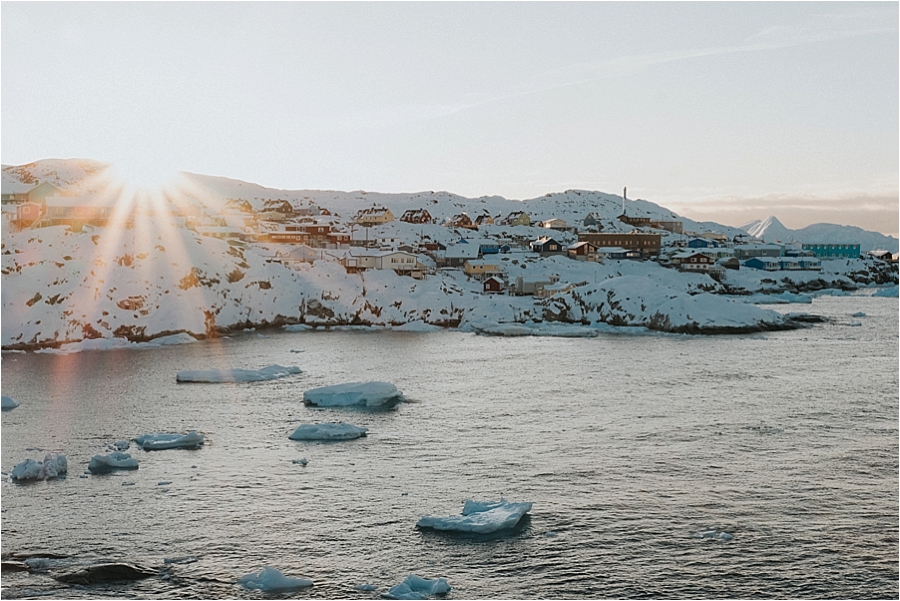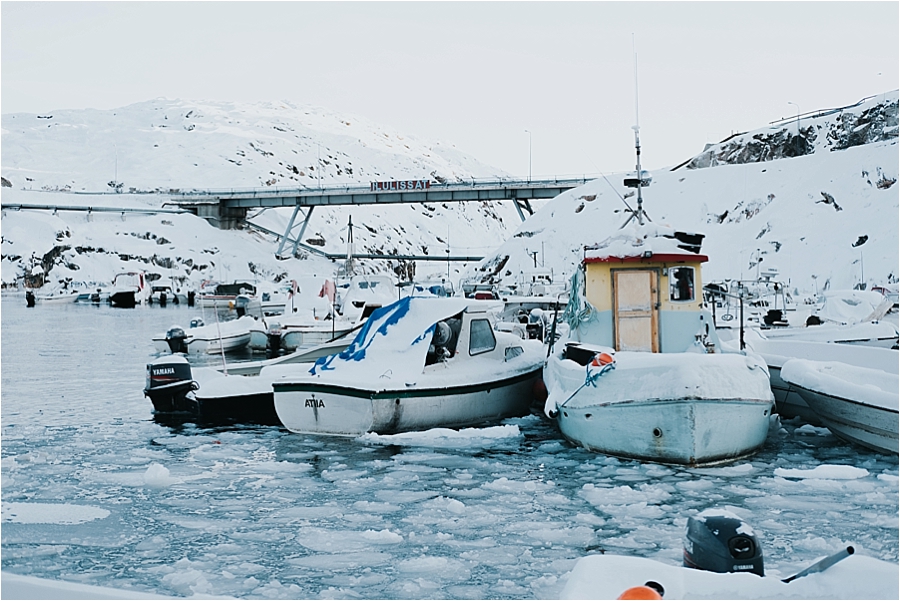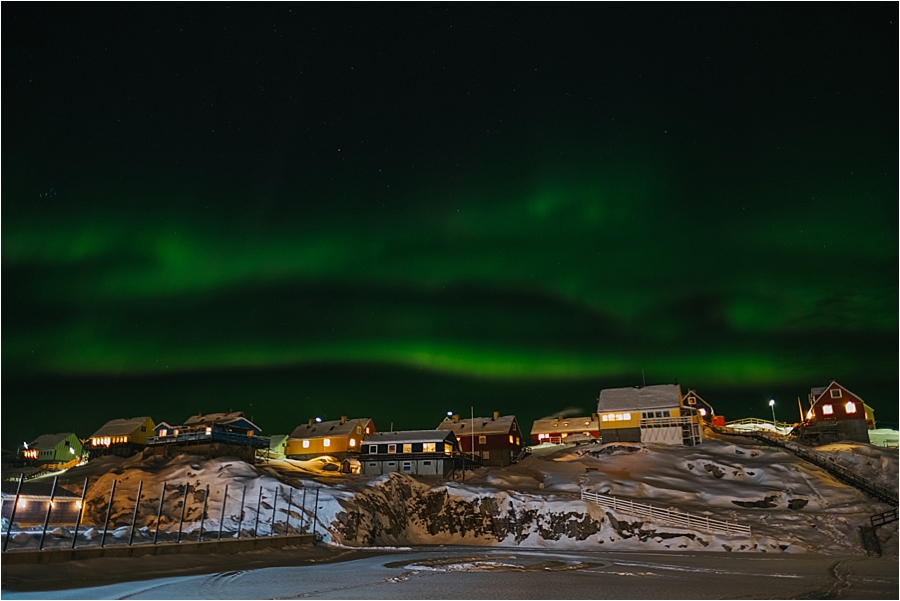 This November, I had the opportunity to travel to Greenland to photograph a couple's portrait session. I had actually been wanting to get to Greenland for a while for a few different reasons:
Secret Life of Walter Mitty is one of my very favorite movies and I love the footage it captures of Greenland's scenery.
When I flew to Iceland the first time, I looked out my window and could see Greenland and all of its giant icebergs floating in the ocean from above. It looked incredible.
Greenland has been in the news recently for its rapidly melting ice, and I wanted to witness its natural beauty before the ice recedes even more.
I've always wanted to see the northern lights.
Traveling to the Arctic Circle is something I have been wanting to check off my list.
Just getting to Greenland is an adventure in itself. The only way to get there this time of year is by flying via Copenhagen, since it's a Danish territory. THEN when you actually get to the main airport of Greenland, you have to take mini planes to any town you want to visit. Because of the snow, ice and mountains, there aren't roads that connect the towns. Picture backcountry Alaska. I flew into Greenland's international hub Kangerlussuaq and stayed the night to connect to a flight up to Illulissat the next day. By the way, the "international hub" was basically the size of a Panera with two levels. The Ilulissat airport was the size of a large gas station. Getting to Ilulissat from the US took me 3 days of flying.
The town of Ilulissat is located in the Arctic Circle. This town is somewhat of a destination in Greenland because of its icefjord with giant icebergs floating in the Disko Bay. The icefjord is a UNESCO World Heritage Site as a matter of fact. It's naturally beautiful with its shades of blues, whites, and grays. The day I hiked out to see the fjord was very gloomy with dark and ominous skies. I'm not going to pretend like I wasn't a little nervous hiking out in the snow all by myself with the strong wind and crazy skies, but it was well worth it. I ran into only one other person on my hike, but I might have turned around if I hadn't because the trail kept blowing over and I was afraid of losing my way. However, I think the gloomy skies contrasting with the icebergs on this day made them look the most beautiful out of every time I saw them.
The cultural experience in Ilulissat was also very interesting. The people are so damn hardy. People really do get around with sleds for their kids instead of strollers. The town is built up a large hill, so kids can sled down the road to the bottom where the main town is. There were many little "sled dog communities" sprinkled across the tiny town. I wanted to take one of those puppies home with me so bad!
English is not understood or spoken by everyone like the rest of Europe. They speak Danish or Greenlandic. And in terms of speaking to the outside world, wifi was extremely limited and expensive. There was no free wifi here. Sometimes when I would pay for it, it was still frustratingly slow or would shut off unexpectedly. Obviously, that's a first world problem, but it gives you an idea of just how remote this place is.
Finally, there is a lot of seal fur used- they wear it as coats, make boots and purses out of it, and they even upholstered the airport seat cushions with it. One day as I was standing on the street, a car drove by towing a seal behind it. Not in a truck bed, not on a sled, just a dead seal tied with a rope sliding on the ice on the road behind a car. Maybe that isn't a weird thing to them, but it looked pretty crazy to me.
Then there were the northern lights! They are so magical in person. There is no way to really know how beautiful they are until you see them with your own eyes. They come in different levels too- the first time I saw them, I barely noticed what they were because they were so small and weak. It almost looked like a cloud to me. Then, a few days later, they were SO strong! Swirling and sparkling overhead quickly and broadly across the sky. Green and magenta, changing constantly and almost raining down on me at times. During my time in Greenland, there were only 4-5 hours of daylight, so these Northern Lights were a blessing on those long dark nights.
Anways, I hope you enjoyed learning a little bit about this beautiful arctic country. I'll be blogging the images from my couples session in Greenland very soon!
Shelley Hartman, Destination Wedding Photographer
Greenland couple's session day 1 pics here
Greenland couple's session day 2 pics here