Asheville-Seattle Cross Country Road Trip
Here it is: the grand voyage. The big trip that I had been looking forward to since this summer. Making a cross country road trip in the middle of the winter may not be everyone's first choice, but as wedding photographers- its the time we have off. Though we had an engagement session in the Cascade mountains planned with Kim + Kevin, we don't have any major obligations until March on the East Coast. So until then, we will be roaming wherever our hearts desire. In case you were ever wondering what it might look like to do a winter road trip across the country, here is our experience:
Day 1: Asheville to Columbia Missouri. Awful. Boring. Miserably cold. We camped out in Lake Lure for a couple nights before our trip to shoot a wedding at the Esmeralda. The wedding was absolutely wonderful. Then we set out early the next morning and drove until we could no longer go. We made it all the way to Columbia, Missouri. The drive was very dark, flat, windy, and icy cold. The temperature was only 3 degrees outside that night. At the end of the night, went into our camper and everything was frozen, but we were just too tired at that point to do anything but cover ourselves in a pile of blankets, crank the heater, and sleep (aka huddle for warmth). I didn't take any pictures this day because I was just so focused on driving and helping navigate.
Day 2: Missouri to Denver. We were so motivated to get far far away from ice cold Missouri that we hit the ground running before dawn. Not that we slept that well anyways. I think the 3 degree temps were really testing the limits of our heater. We may be able to get something stronger if we plan to say in such freezing temps again, but I don't think we'll be seeking that out. We drove all the way to Denver this day and were rewarded with an epic sunset along the way in Kansas. Surprisingly enough, Denver is nowhere near as cold as the midwest. Not very windy either. Our site was covered in snow but the temps barely got to freezing overnight. We rewarded ourself with a long hot showers at a KOA Kampground.
Day 3: Denver to Salt Lake City. A beautiful and enjoyable drive. I made a couple roadside stops in Wyoming to admire the running horses and snow capped mountains. We really wish we had time to swing by the Tetons, but are hoping to spend some time based in Jackson Hole in the future (Tetons wedding, anyone?). Despite all the road signs, the drive was smooth and effortless. Perhaps we got lucky, but we were very thankful. Still scarred from our night in Missouri, we reserved a campground with a hot tub in Salt Lake City that night. It was magnificent! We felt wonderful and warm when we hit the sack that night.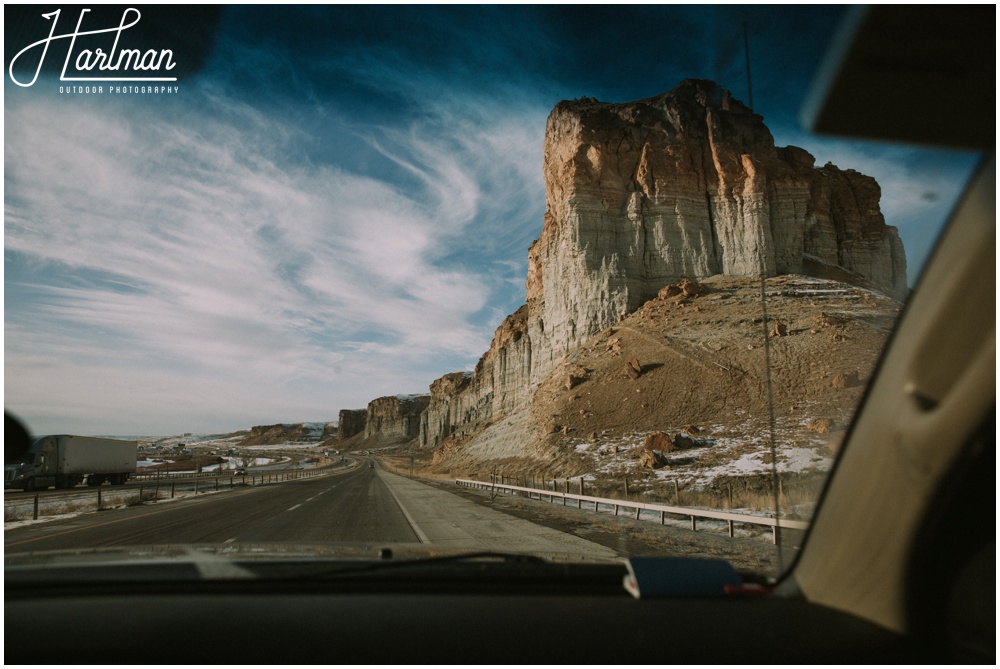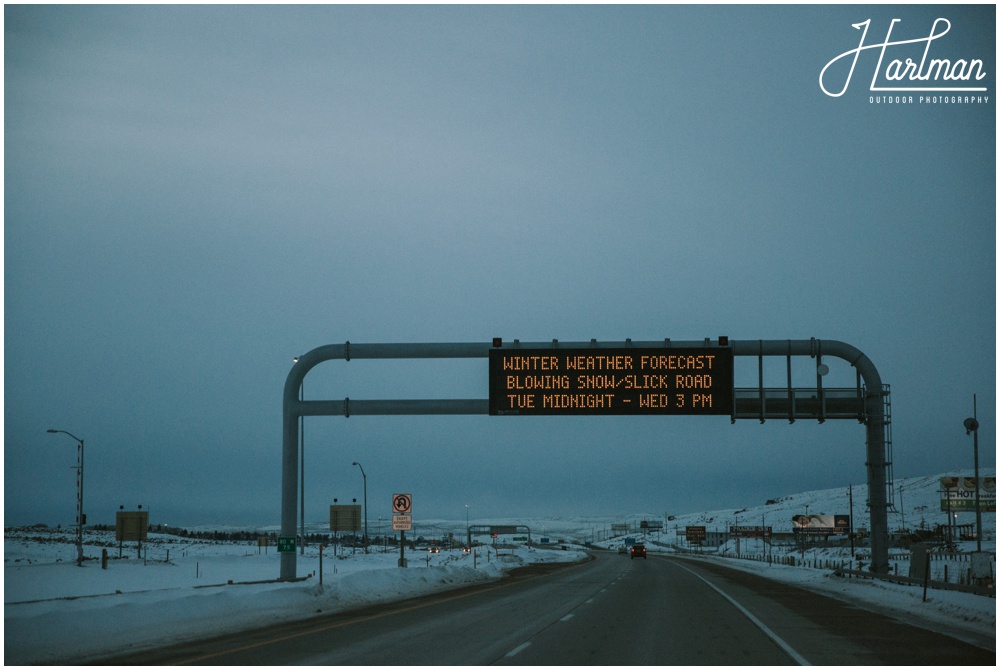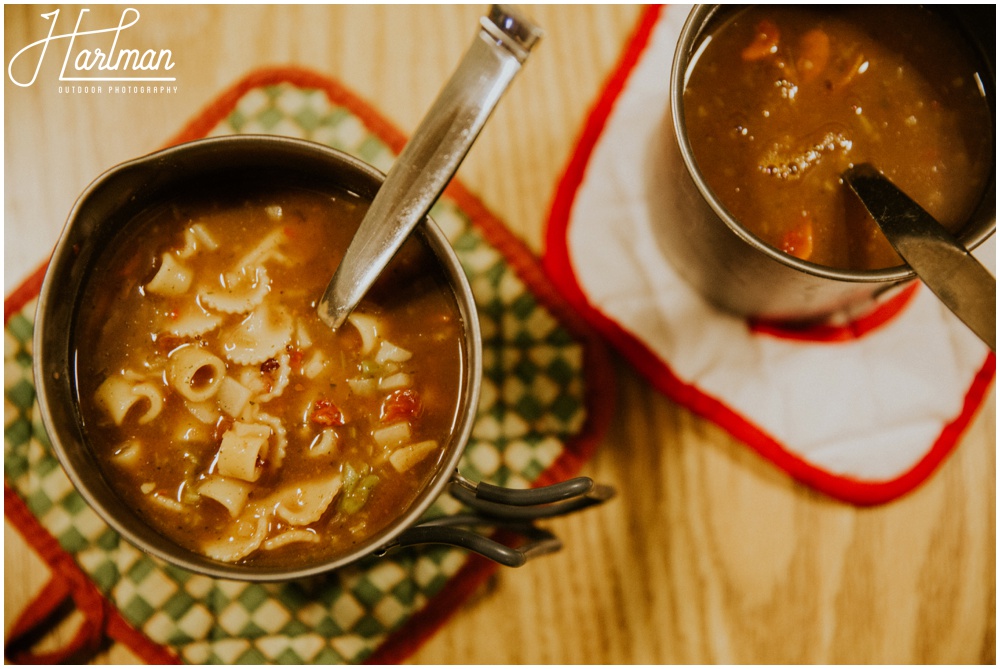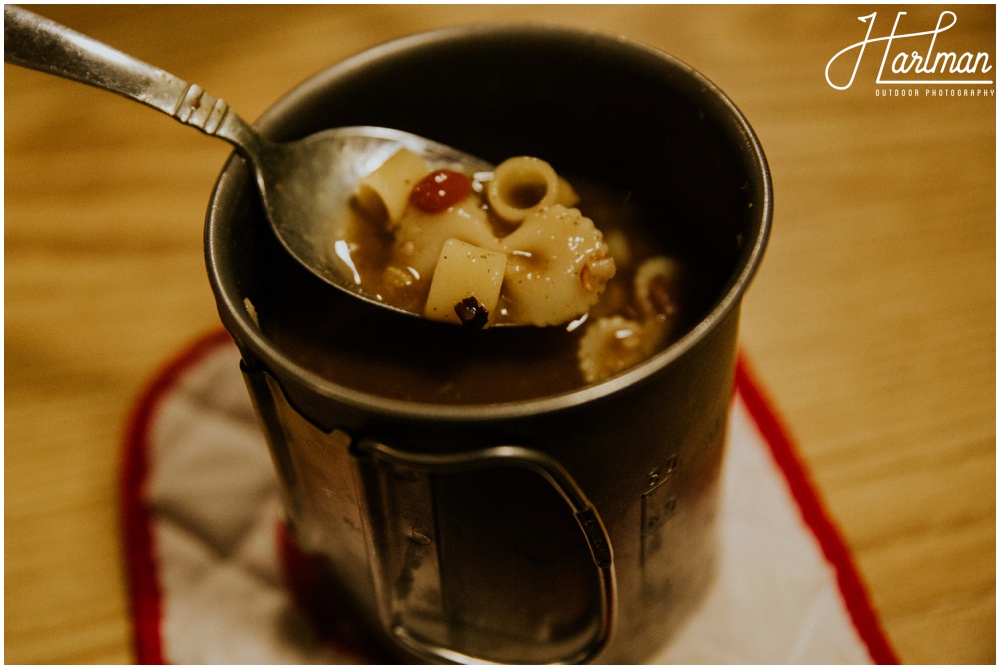 Day 4: Salt Lake City to the Washington Border: This is where our luck apparently caught up with us for a bit. Coming out of Salt Lake City is beautiful, but once we hit the Idaho border, things got really intense. The whole trip we had lucked out with clear dry roads. But in Idaho, there were 20+mph cross winds and slush all over the roads. We saw the semis in front of us swaying over the lane lines with each gust, but there is no where to pull over for long stretches of time, so we just had to white knuckle through it. Add in all the crazy warning signs: " severe storm area", "occasional blinding dust storms", "game crossing", "high winds" and you realize that Idaho is a little scary. Who knew. At this point, we were getting a little tired of driving so we just kept at it until we made it to a rest stop off the Washington border and took a nap in the camper. The second half of Idaho and Oregon were not nearly as difficult as the beginning.
Day 5: Washington Border to Olympic National Park. We set out to take the major interstate from the border to the Washington coast, however avalanche warnings caused a few road closures, blocking our direct route on 90 as well as the usual detour route. This wasn't even on our radar, so we pulled over and talked to some people at the nearest gas station. We ended up taking a local's advice and hopped on White Pass for a beautiful winding trip through the Cascades. The route nearly doubled our travel time for the day but the drive was breathtaking! Once we got close to Seattle, we stopped at an REI to stock up on some necessities (like a new raincoat for me!) and finally made it to our campground after dark. We can't believe we did it and are really looking forward to all the exploring we will be doing here on the west coast!
So there ya go. It may not be glamorous, but it certainly isn't impossible to make a cross country road trip in the winter. Plenty more pics of our west coast adventures to come! ~ Shelley, Asheville + Destination Wedding Photographer