Solar on our Casita Travel Trailer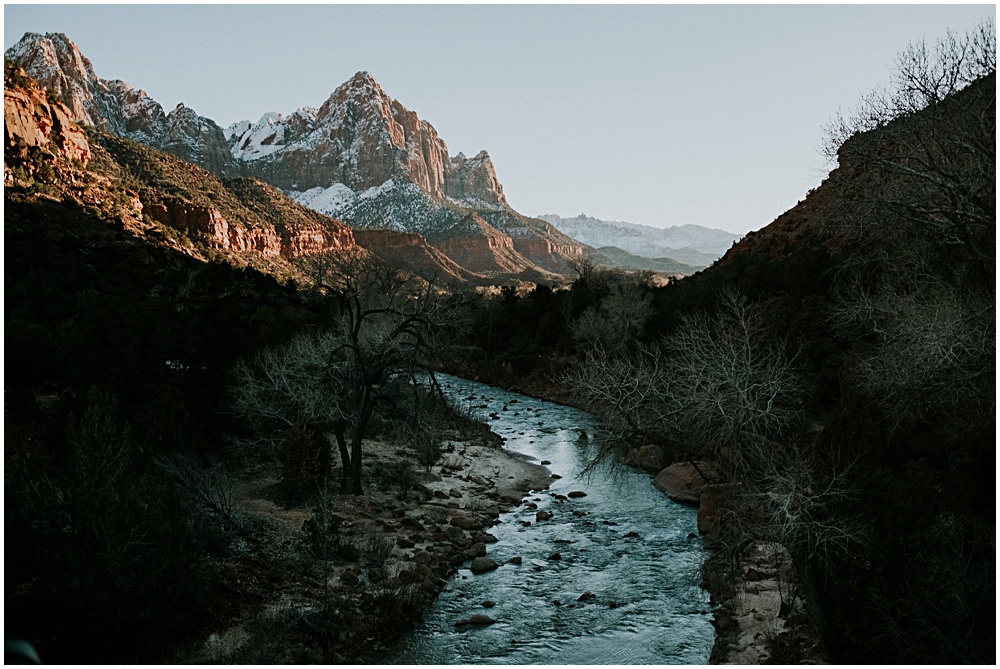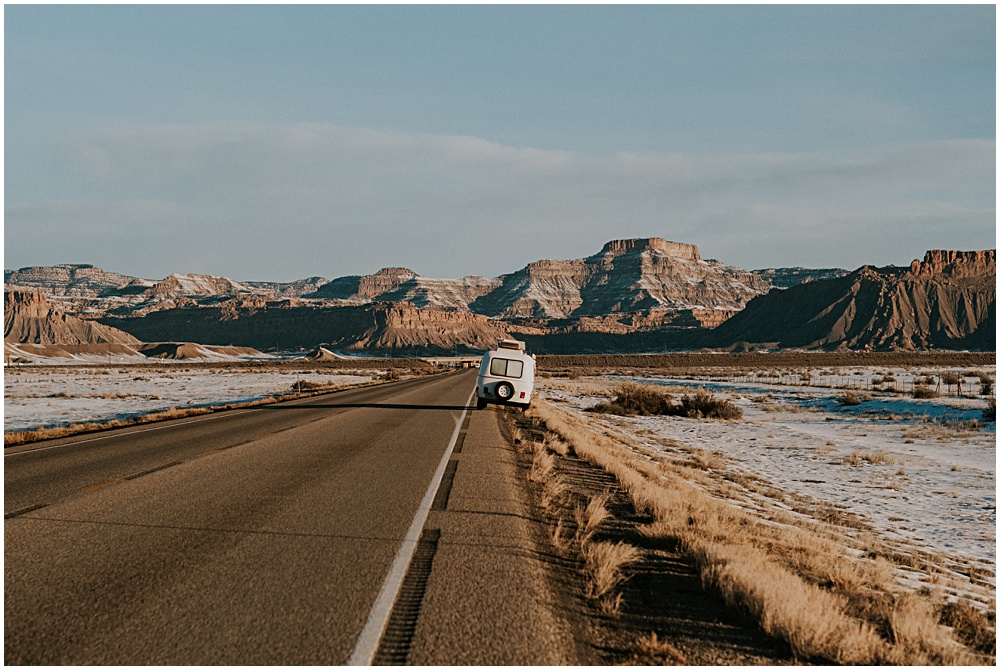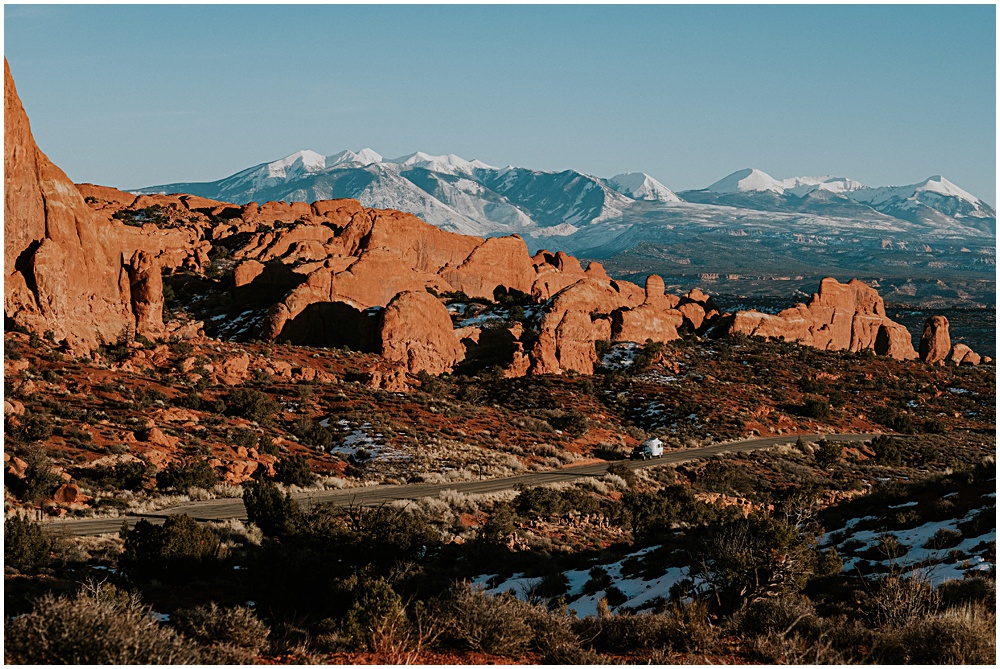 I feel like we're finally experiencing real freedom. I don't want to overly dramatic here, but I never would have thought free power from the sun would change my life so drastically. We now have all the energy we could possibly need and no electric bill. Our new solar setup has changed how we travel. For once our pocketbook isn't diminishing. We're not worried about logistics and reservations. N
ot to mention we've gotten some of the most badass photos from camping off the grid. And because we've saved so much money in campground fees, we've also reclaimed much of our time. We don't have to work as hard to sustain our lifestyle.
Not to brag here, but we have a pretty remarkable setup. It's 650 watts of pure badassery to be exact. According to my friend Josh, the engineering mind behind this setup, we have as much power as a Tesla Power Wall. Yeah, I had to look that one up too.
Well, I won't hold you in suspense anymore. I'm going to do my best to explain how we made this happen. I've also got some links below on every item purchased. If you find value in this post, please use our Amazon links to make your purchase and we'll get a little kickback. Much appreciated.
By the way, I'm not a techie dude. I would describe myself as an artist. I couldn't even tell you what a watt is. My mind just doesn't work that way. So please post your questions below. I will do my best to answer them or I'll send them to the much smarter Josh.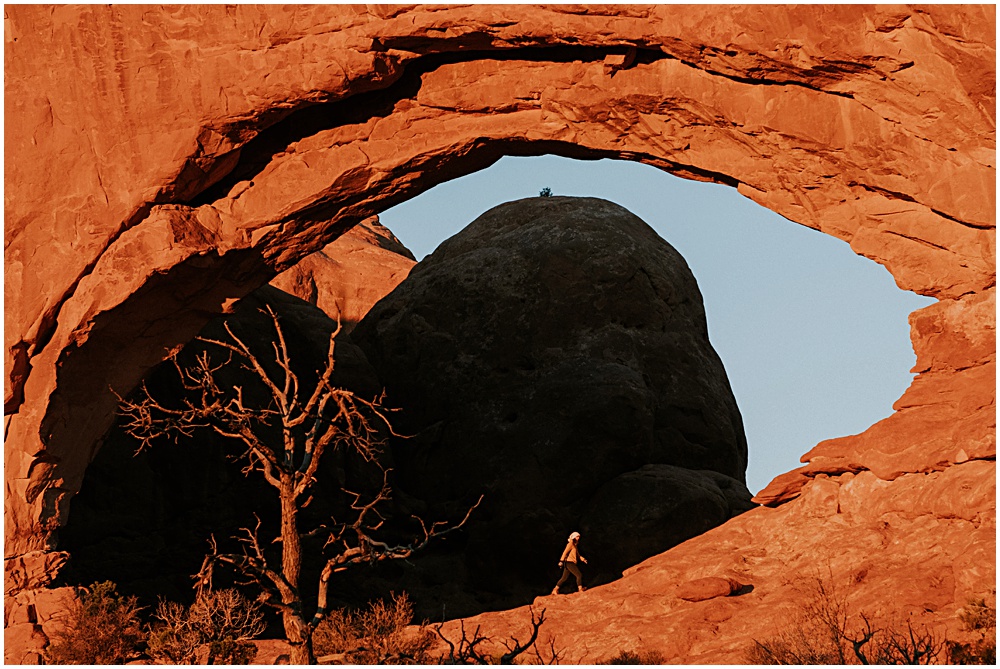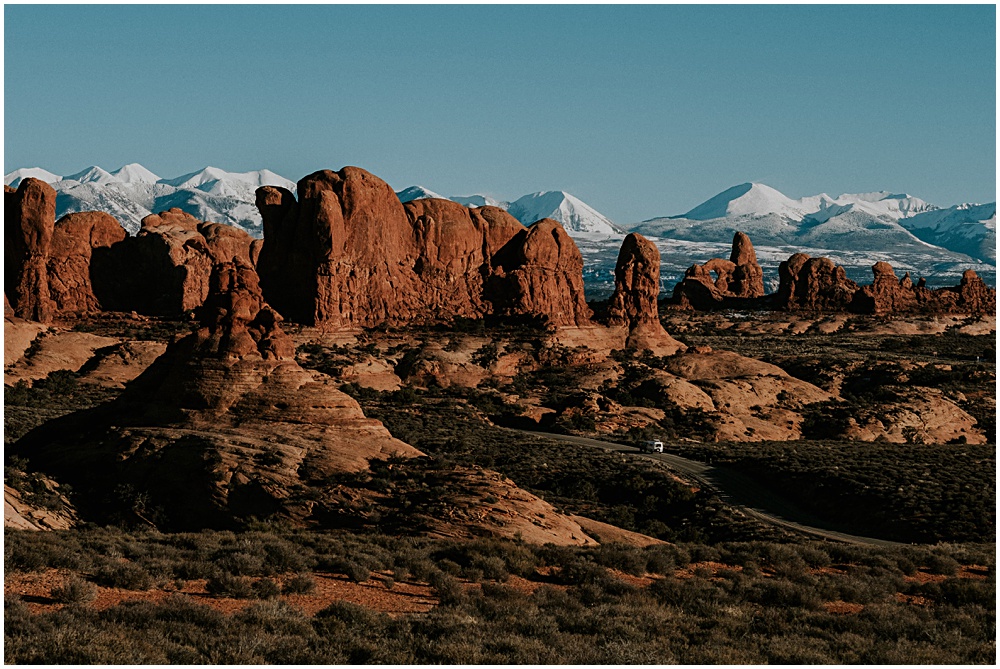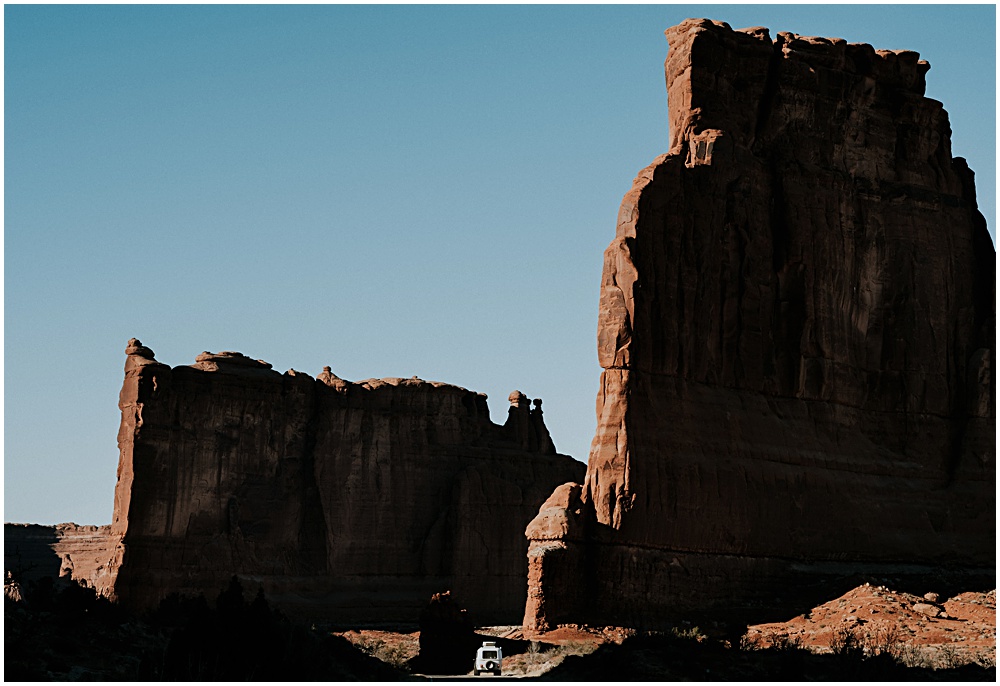 >Right now Shelley and I are roaming the planet in our little Casita. We have never felt more free, financially independent, and inspired.<<<
In the other Josh's words, here's what made this project a particular challenge:
"Getting over 524 watts [650 watts to be exact] of solar panels you needed because the fact that flat mounted [panels] get about 50% the power in the winter. 
From that [we need to make sure that you have] enough batteries and they were safe to keep in the closet. And making the whole package as simple as possible.
The last and longest challenge was how to build a connection between the truck and camper using solar panels that's simple and safe as can be. The wires [making this connection] will wear out, but are easy to replace (being standard 15amp extension lines) allowing you to connect up as many as you need to get the truck to the sun if the camper is shaded."
Yeah, I had to read that twice when he texted that to me. Josh really thought of everything. He's got that sorta brain. I really don't think he'd be so intrigued by this project if it wasn't so incredibly difficult.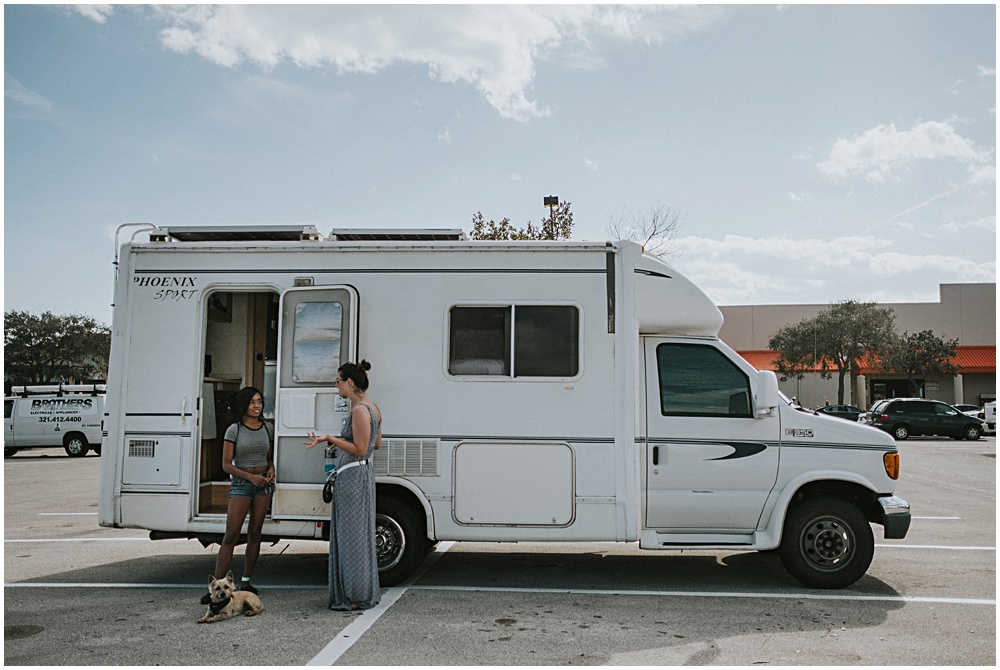 >>>Josh and Angeli's setup with 800 watts of solar goodness. They are the only solar setup (I have seen) that surpasses our solar insanity. They can run an air conditioning unit!<<<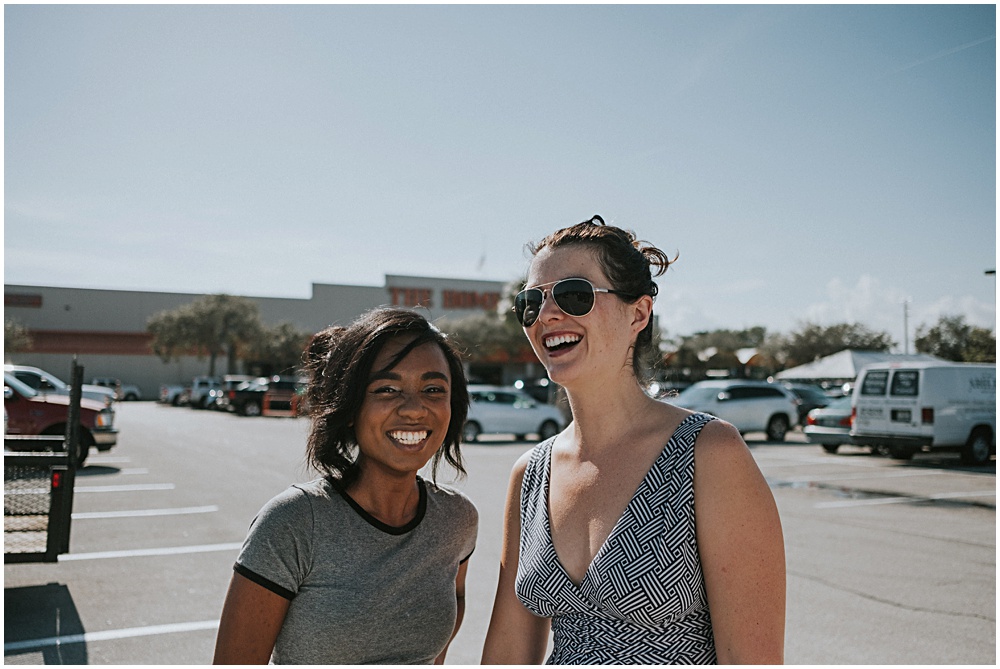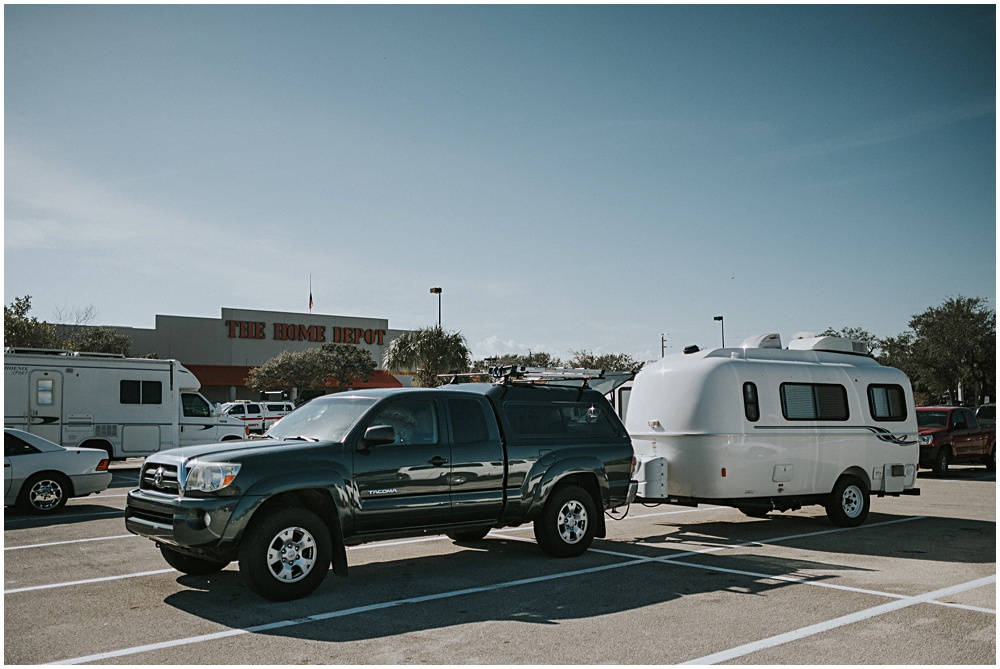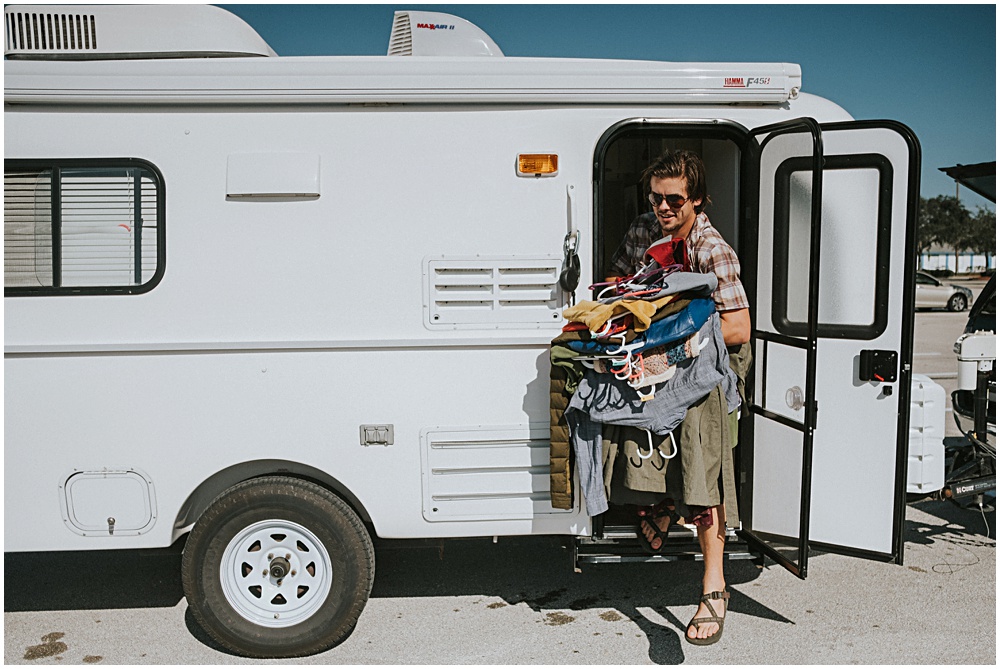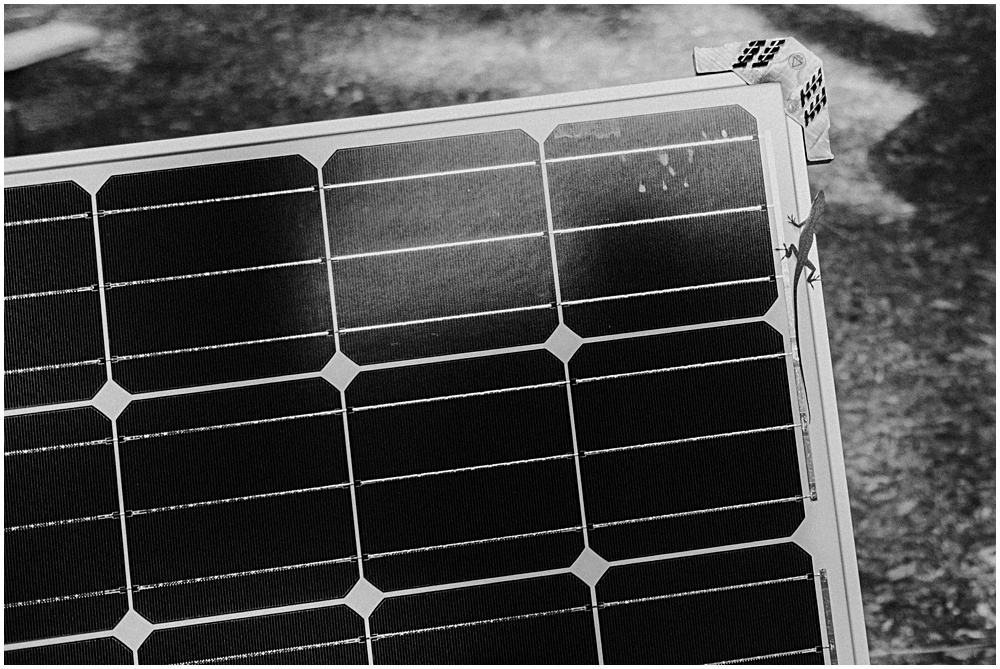 >>325 watts of solar sweetness times 2! I'm not a techie guy, but I'm impessed.<<<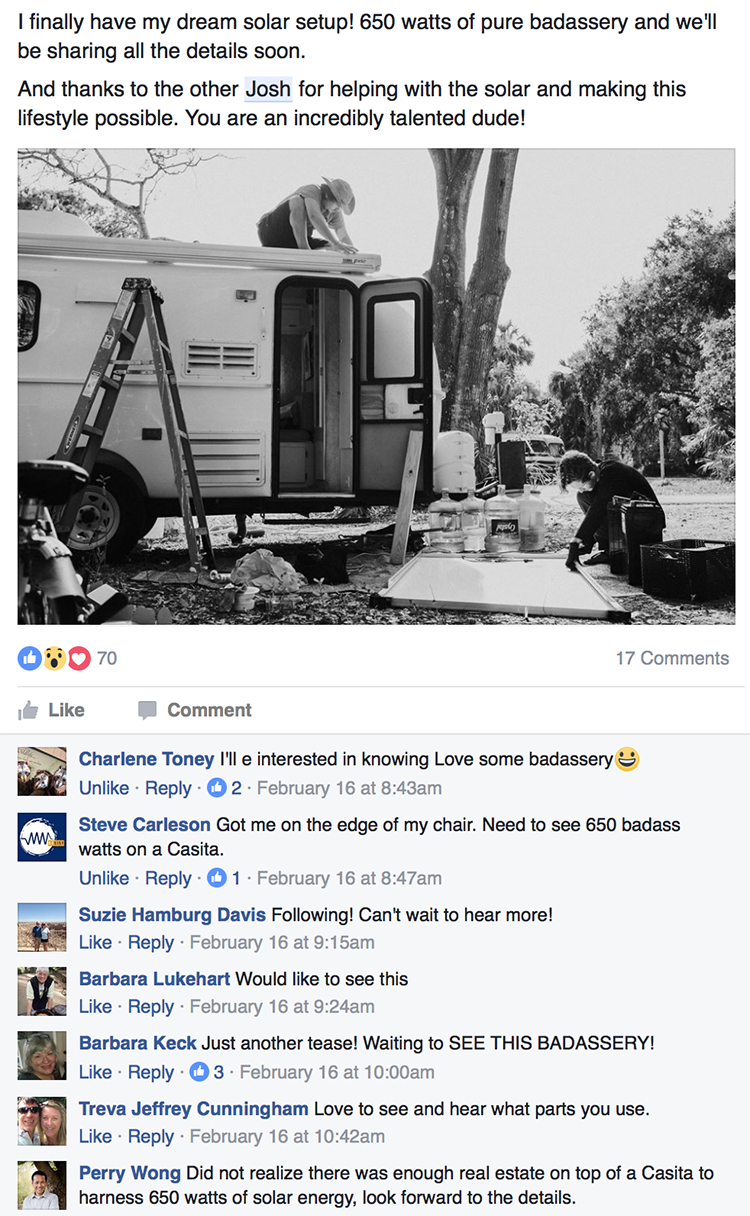 >>>As you can see, I pretty much had to make this blog post. I have been getting an average of 1 angry message a day demanding that I share all the details. I'm not exhaggerating. <<<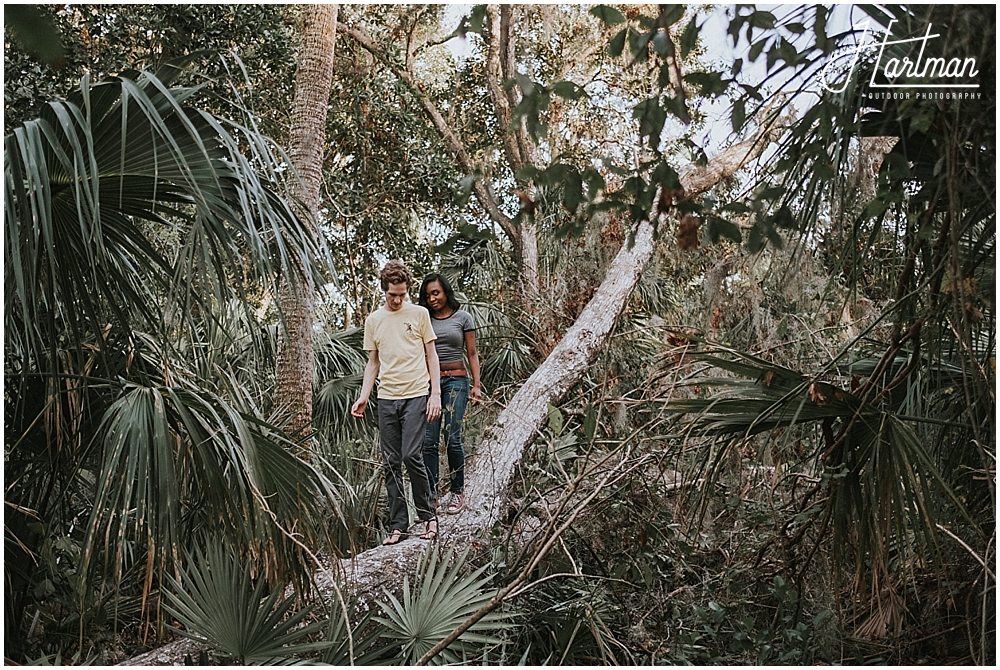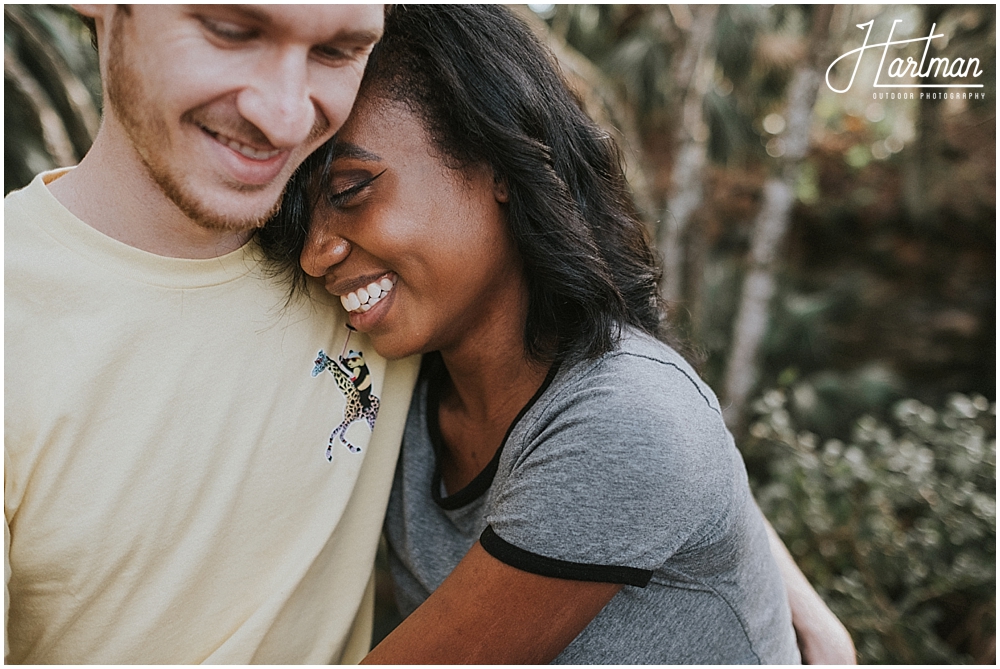 >>We met Josh and Angeli, the advocates behind the solar lifestyle, at the nudist bash in Florida. You may remember the nudist bash photos here. Since then, we've been the best of buds. The two are engaged and we got the chance to photograph them when we were down in Florida.<<<
Day one of the project. Josh is in the closet (of our Casita). We are feeding a large gauge cable through the Casita. Here's his email explaining all those important details that I just can't wrap my head around.
"Glad to help. I think the wire run is the only thing we can get done this week really…you guys can come back down or I can drive it too you if you cover gas… I do the work to help y'all gain more freedom and whatever that is worth to you is fine with me."
I think the best right now would be running wires for AC and DC connections in your camper. I have the wires for the line from the inverter and the 2 gauge wire from the battery charger 12v fuse box to the closet.
Also if you havent order one of these we would be good to replace it when we run the wires. Lippert Components 389381 White Roof Vent, (360 Siphon)
 "
This was a big fucking cable. Why so thick I asked? Josh said something along the lines of "if we used a smaller gauge cable, you'd lose [BLAH BLAH BLAH] watts out the gate. You don't want to do that." Yeah, Josh thinks of everything.
Another important lesson I learn on day one of our project. Never drill a hole in the bottom of a pipe. Water flows down and will eventually find a way through. Duh. We're planning to feed a cord through the air vent in the top of the closet. He uses a hot stick to bore through the pipe, but that's for another day. Today we spend a good couple hours feeding the massive cable from the closet, under the bathroom, around the table, and out the butt of our Casita. I thought this might take days, but with Josh's impressive tying skills, we fed a line through and then used it to pull the massive electrical wire through. He even left the pull cable in there just in case I decide to pull another cord through in the future. Didn't I tell you he thinks of everything?
>We are so very lucky to have met these two amazing people. We had a blast on our adventure session. <<<

>>>My biggest contribution was financing this project. The second biggest: photographing it.<<<
Okay, after day one we said farewell for a couple weeks. But our plan was to drive down to Florida again to finish this project. Here's the email I got from Josh about all the materials we'd need for this project. If you are just reading this for inspiration and don't want to get overwhelmed by a laundry list of materials, then skip down to the pretty photos below. But if you want to know how we accomplished this dream solar setup, then here's the specs. And to show your thanks, please use these Amazon affiliate links when making your purchase. I plan to give at least 50% of what I earn back to the other Josh, the mastermind of this whole setup. 
"This is the most simple reliable easy system I could come up with for y'all.
This is about $1,600 in the main parts of the system. There are cheaper options in batteries and chargers batteries if you wanted to cut corners is the only place I would say go for it personally. 
This is the rest of the parts
By Wednesday I'll have schematics for you on the system. I have an address if you want to mail the stuff there I can build it all out and ether y'all come down or if you cover cost of gas we can meet y'all wherever and install it wherever y'all are at probably easier on y'all."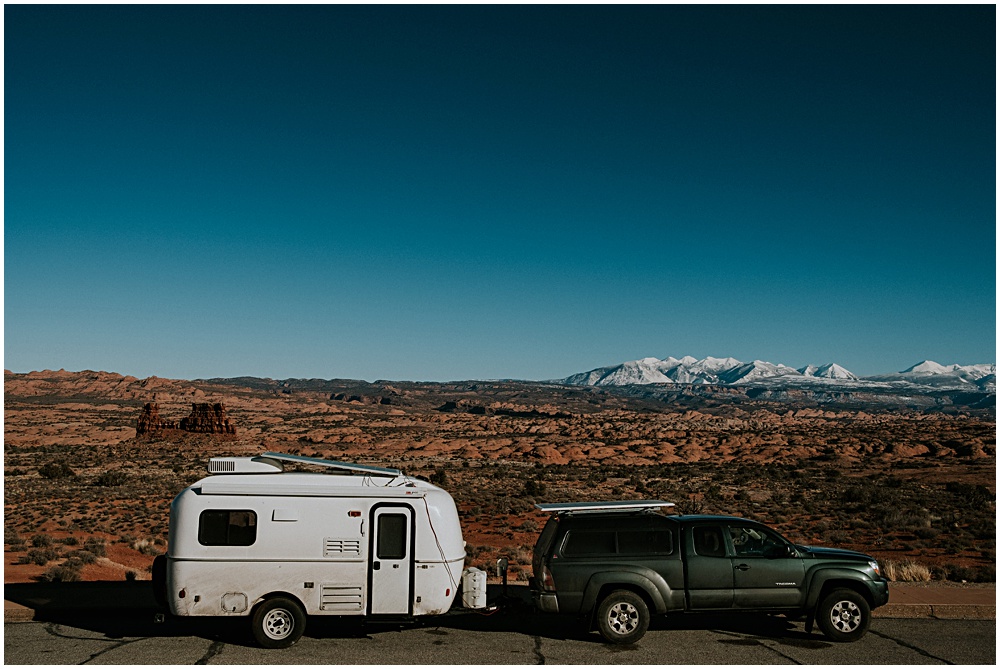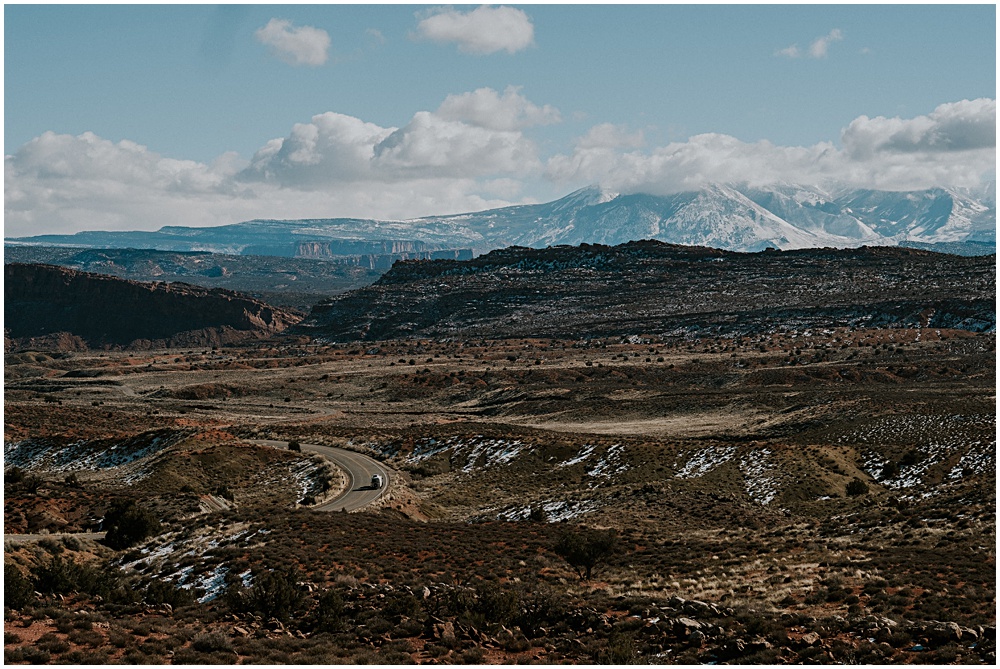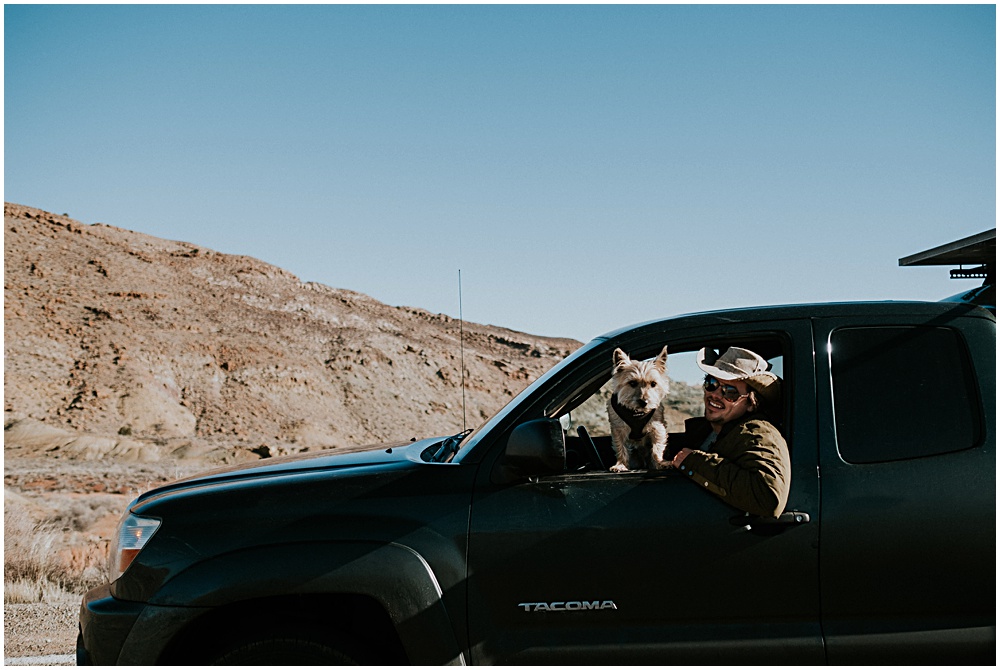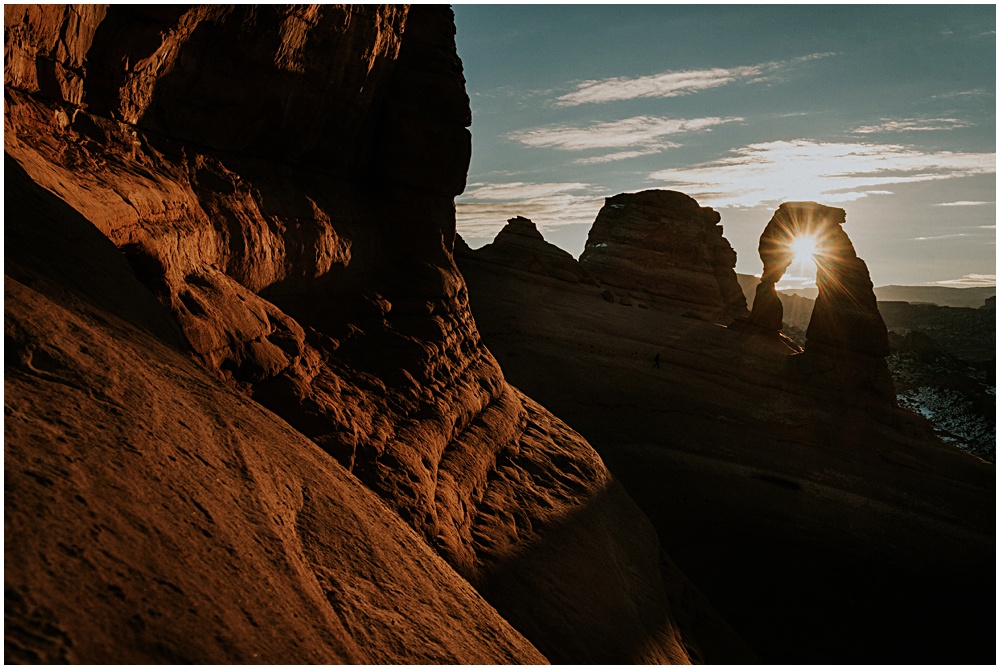 >>More pretty pictures of our solar setup and scenery. Not only is our solar setup reliable, but it's also a work of art. I think I'm in love.<<<
So now here's the fun part. I attempt to describe how we put all these parts together. After looking at that parts list, you might understand why I procrastinated this chore for so long. (Honestly, you might want to scroll ahead to the FAQ (coming soon) because I'm not sure how helpful this next section will be. Seriously, I know I'm going to botch something up. By the way, Josh and I are not responsible if you blow something up or burn down your camper. Please understand that I am in no means a professional. Follow these instructions at your own risk. And feel free to add any questions in the comments below.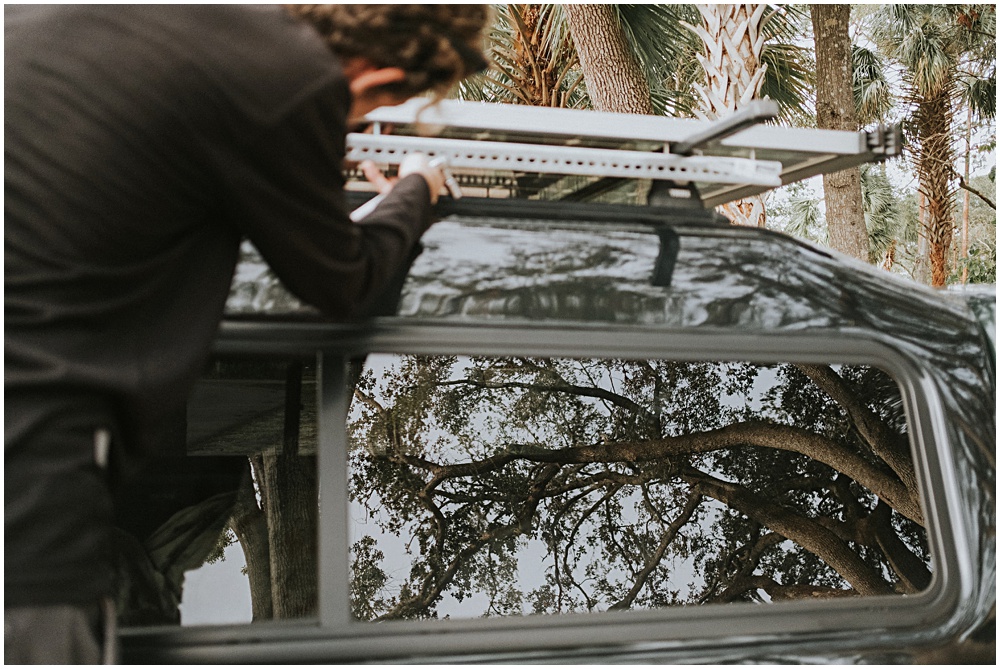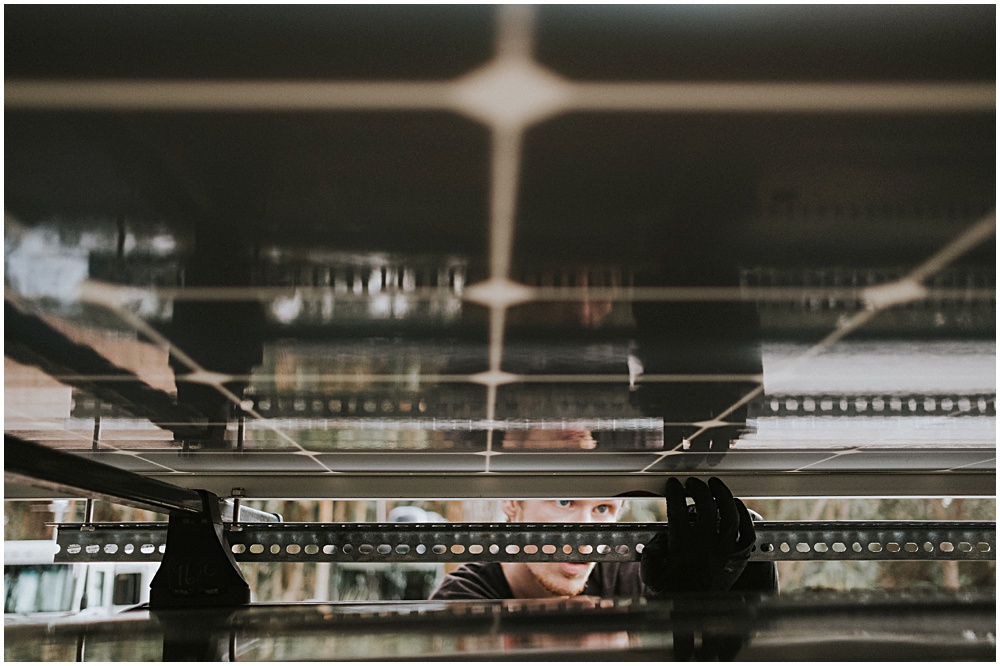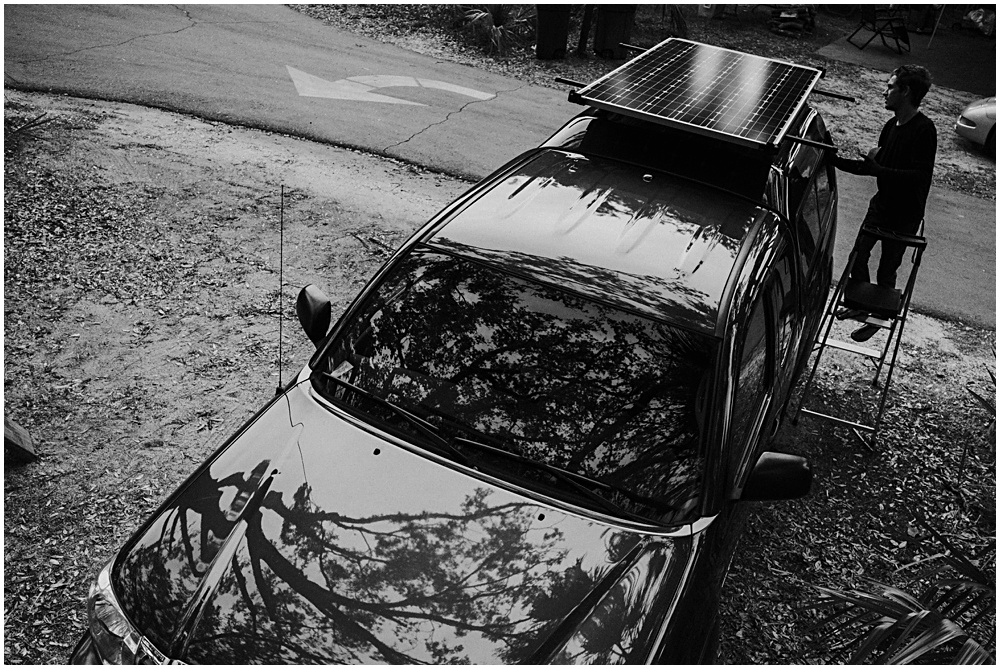 Let me start with the truck since that's easiest to describe. Okay, so you have to understand that Shelley and I are incredibly mobile. We don't often stay in the same place for more than a few days. Last year we put 50,000 miles on our vehicle (no exhaggeration). We travel all over the US photographing weddings and engagements. So we may arrive at a place late at night (meaning we're driving during optimal daylight), explore with our whole set up for a few days, and then leave. In other words, we needed a system that is super user friendly and works while we were driving. We didn't want to be setting out external solar panels every night. We also didn't want to be limited by the roof space of the Casita. (Hence the solar on the truck.)
We have a total of 650 watts and that may sound crazy. But we will often edit all day in our Casita. We're photographers after all (if you couldn't tell). I'm not talking about web browsing. I'm talking Lightroom, Photoshop, and iMovie. These are energy hog programs and we are so thankful that we have a second panel that helps us charge up twice as fast. I've seen setups with 100 watts. I'm sorry, but this wouldn't work for us. I've gotten countless messages that read: "I saw your post in the "BLAH BLAH BLAH" Facebook group and I just don't understand why you need that much wattage. What are you trying to compensate for?" But truth be told, I have never met someone that has complained about having too much solar. Oh yeah, another advantage of having half our solar parked on the truck is that we get to park the Casita in the shade and the truck out in the sun (and the connection can be as long as 300 feet)!
To rig this up, we simply used the Thule bars on our truck. This was probably the easiest part of the setup. But because the other Josh can never accept the bare minimum, he decided to install these on/off switches that make connecting/disconnecting the cable safe and simple.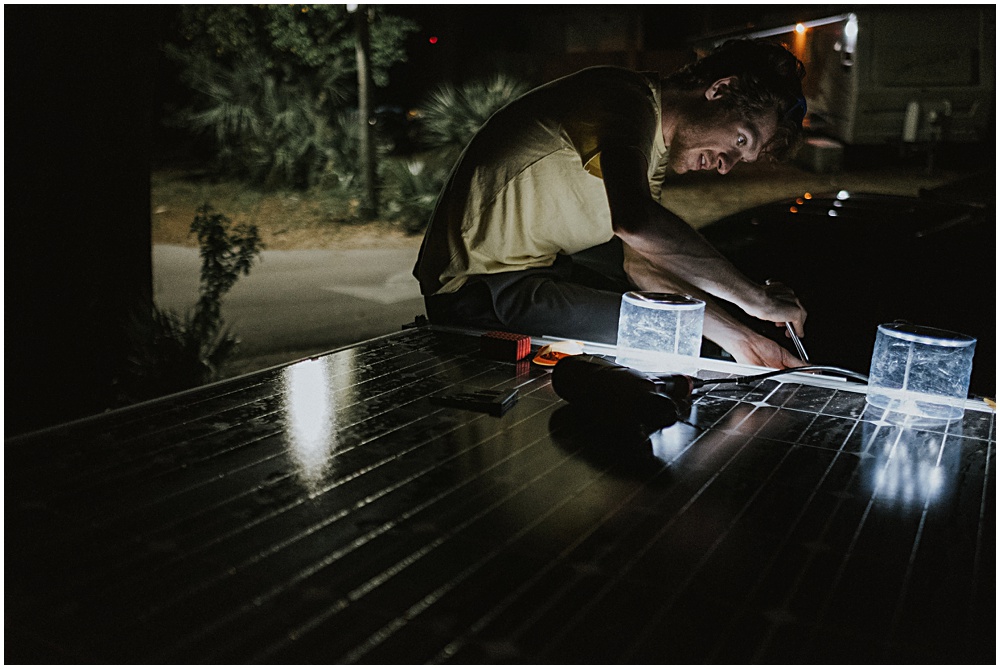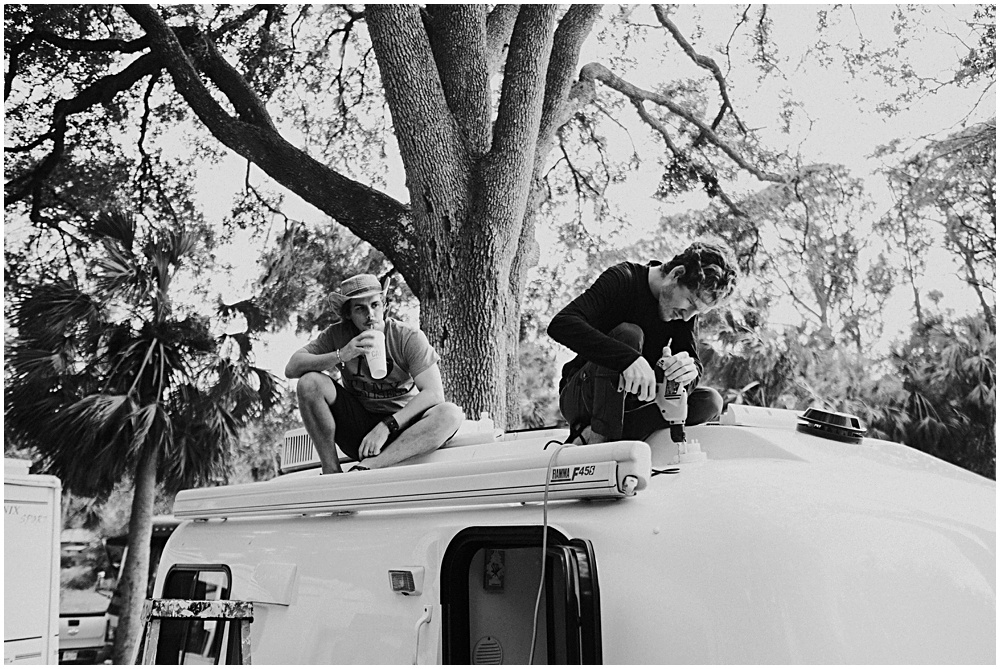 I think this last photo accurately represents my contributions to this very elaborate setup. Like I said before, I just don't have a mind for this sort of thing. Nonetheless, I was fascinated watching Josh work. <<<
So another big question you might be asking: Why the slanted panel on the Casita? And the answer is simple (even for me). A slanted panel is going to be more efficient, better in wind while driving and it also made it really easy for us to install this giant panel on the Casita. (I don't think I've ever seen a bigger one installed on a 17 foot Casita, but prove me wrong.) And one other thing: having a slanted panel makes it super easy for us to direct our setup south for better solar efficiency. Check! Next question.
Oh yeah. Here are a few more things that Josh told me to add to this blog post.
The solar panel mounts are led to the roof that way no extra holes are added to the fiberglass (which doesn't hold screws well anyway). We used M3 5200 fast cure that withstood a direct hit from Hurricane Matthew 140+ mph winds from 3 directions. The solar panel is mounted so that it comes off (being attached to the air conditioner cover) before it takes your camper airborne. 
Also, make sure you plan the wire runs and keep voltage loss below 3% (if you don't know that that means, look up voltage drop calculator).
Stainless steel all outdoor hardware is a must (don't be cheap where it matters).
The inverter hooks up to the shore power plug so there is no need to change wiring. And set the fridge to not be on 110v AC line. Run it on propane or DC.
Expect to get 50% power out of the panels in winter compared to the summer.
Part of the reason to mount the inverter and other components on a board is so they can easily be taken out when you need to work on them.
And a few things about the batteries: The AGM batteries are stored in the closet. It's perfectly safe to store these batteries inside. Make sure the wire connections are secure (I mean REALLY secure). Many a place has burned because of it fused or not secure connections. Safety first! When buying lead batteries, understand only 50% of the Ah can be used on a regular basis before you start to degrade the batteries. We emptied the old battery box and it makes a great tool box now.
Also, make sure to include a picture of the trimetric reader showing 100% if you have it. This is the most useful piece in my mind. It tells you exactly how much of what you are using off the battery.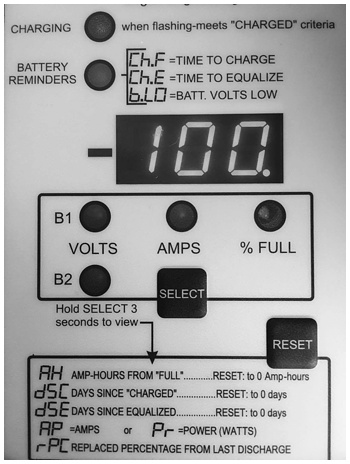 >>Here's the trimetric reader. It tells us our current usage and percent battery power, which is great for conserving power and making sure your panels are working efficiently. Seeing 100% on this thing makes me so happy.<<<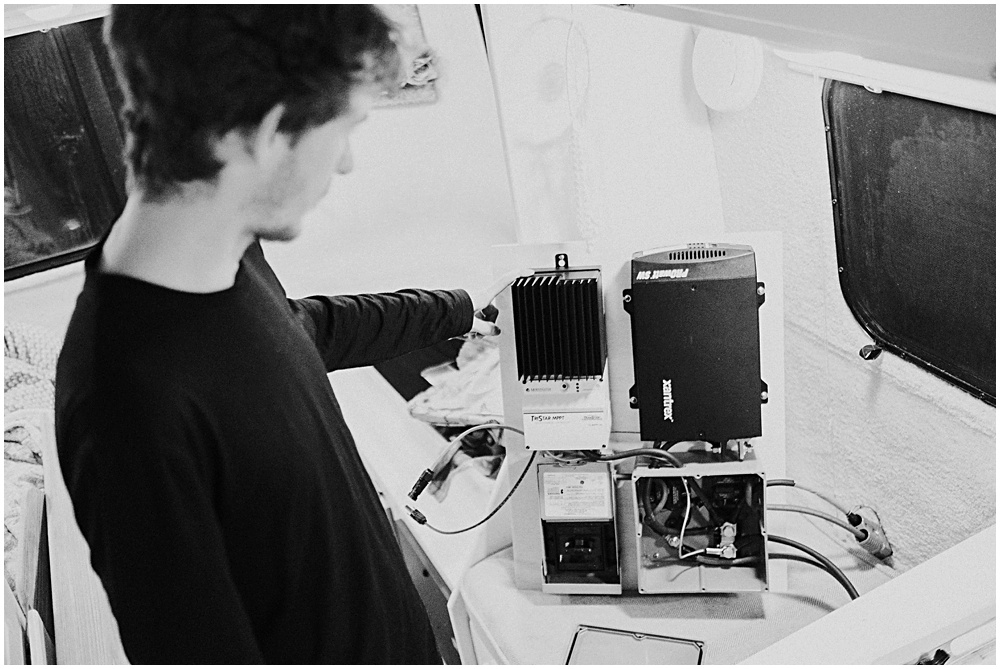 >>This thing is seriously a work of art. The cords even have quick connects so you can remove the entire mount if we ever need to work on it..<<<
If you've read this far, you are in one of two boats. You are either as dazed and confused as I am (and that's okay…no judgment here) OR you are rolling your eyes at my daftness. It's like those people of Walmart photos you can't stop scrolling through. (Another good one to Google is "failed taxidermy." Trust me you will never last so hard. Click here and thank me later.) Seriously, I'm trying my best here. And I wouldn't be posting this if I haven't already received hundreds of comments and messages regarding this solar setup. This isn't my area of expertise, so please ask any questions below. I plan to create a FAQ section at the bottom of this blog post that will hopefully answer all of your questions.
Let me end on an inspirational note. Solar is amazing. You should get solar. (Okay, conclusions are hard.)
Thank you for reading. I hope this blog post has inspired you to move forward in your adventures. And feel free to follow our adventures on Instagram. 🌲🚐✌️
Josh and Shelley Hartman
Adventurers. Wedding photographers. Tiny home dwelling nomads.