Julia + Steve | Blue Ridge Parkway Engagement, Boone, NC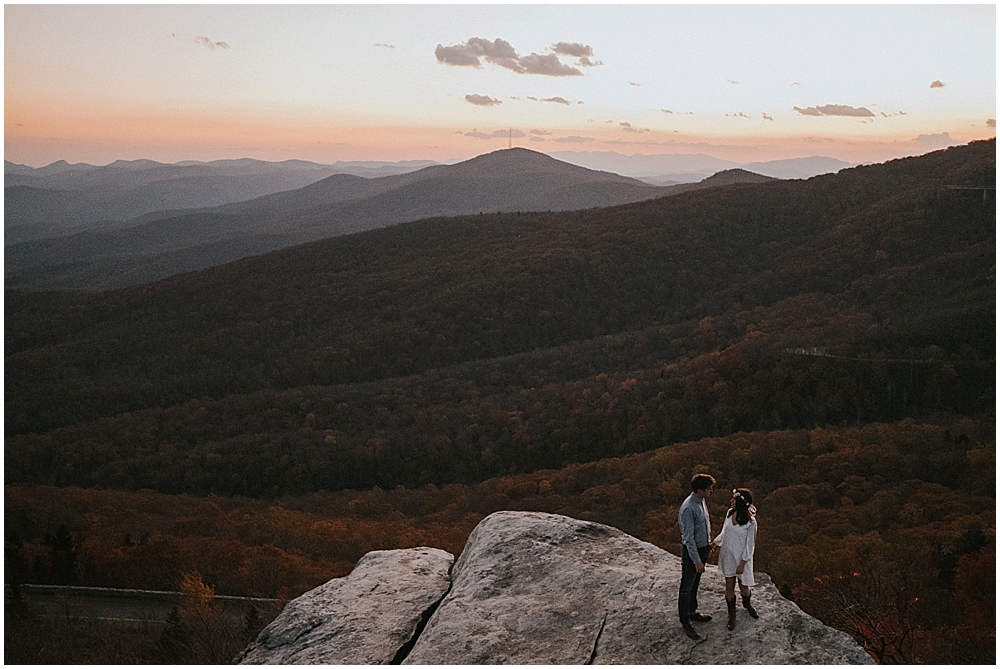 Julia and Steve met up with us on an absolutely perfect North Carolina autumn day in Boone for their session. We met up with them off the Blue Ridge Parkway to show then a couple of our favorite spots. The last time we went to the Thunder Hill overlook in May, there was a surprise snow storm. But today there was none of that. Just warm sunshine and a sweet breeze. Julia and Steve were ready for some outdoor exploring with us and even brought their new fur baby- the most adorable fluffy little dog named Blue.
We hiked along the paths through the tall fields and took in the sweeping mountain views. We planned this session just after the fall colors peaked in Western North Carolina and the oranges and yellows in the mountains were still so stunning. After spending some time at our first spot, we drove down the parkway to another one of our favorite cliffsides to watch the sun set over the Blue Ridge Mountains.
The light from the cliffs glowed like magic on the mountains. Julia and Steve, Blue, and their sweet, goofy love is what really stole the show though. And of course we were all heart eyed over Julia's amazing flower crown. We stayed out there on the cliffside watching the sunset and admiring Grandfather Mountain behind us. Even though it was just an afternoon, by the end of the session we all felt like old friends. Thank so much for bringing your sense of adventure and taking a trip out to Boone to meet us guys! Can't wait for the big day next fall! :)